Modern Nostalgia was well received by most. Here's what some critics had to say: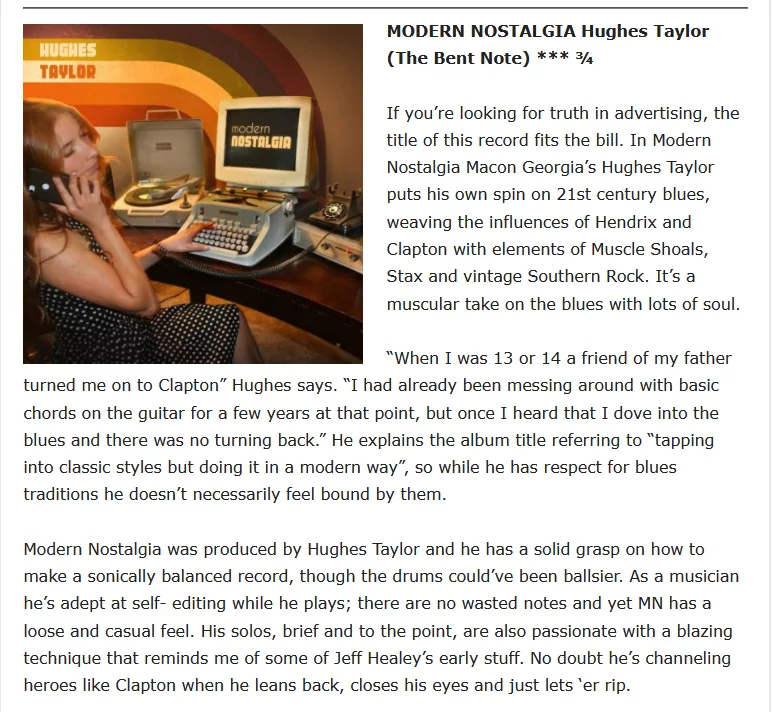 "If you're looking for truth in advertising, the title of this record fits the bill. In Modern Nostalgia Macon Georgia's Hughes Taylor puts his own spin on 21st century blues, weaving the influences of Hendrix and Clapton with elements of Muscle Shoals, Stax and vintage Southern Rock. It's a muscular take on the blues with lots of soul."
"Modern Nostalgia is Taylor's 4th solo album, leading me to think "why have I never heard of this guy before?" but like I've said before, there's so much music out there I just can't hear it all. The disc plays out like a rewrite of what the blues has been over the last 4 or 5 decades with a palpable reverence to the past. The last time I chatted with Alligator Records founder Bruce Iglauer we talked about how blues might move into the future and still thrive… Hughes Taylor is one of the artists that will keep this music exciting for the generations coming up behind us."
Blues Matters! - Andy Snipper
"I find it fascinating how blues music has both developed and mutated so extremely over the last 50-60 years, yet a musician such as Hughes Taylor can present his own form and reference every stage of that mutative effort. Hailing from Macon Georgia, Taylor plays electric guitar Blues that would be immediately familiar to followers of Clapton or Stevie Ray Vaughan but also feeds elements of the stalwarts like Roy Buchanan or soul players like Peter Green. While his voice is really no more than ok, he is a talented axe man and not too shabby a songwriter. At times he really does bring back memories of all the greats but there is still something in his playing that sets him aside from the thousands of other pickers and strummers. Dreamily has a delightful drift to it, his guitar strummed through the verses while his solo positively screams out of the mix. Quarantine Blues has his foot down hard on the Wah pedal while Highwayman burns with some real power and punch. There is a real groove about Prettiest Thief, the Hammond bringing up the size of the soundscape and his guitar lines are really fluid and dexterous. I get the feeling that these are songs that could easily stretch out in a live environment and, with Macon as a base, I would have thought that they would be a wicked jamming band. It's an excellent album, a wide range of styles and shapes, and well worth checking out."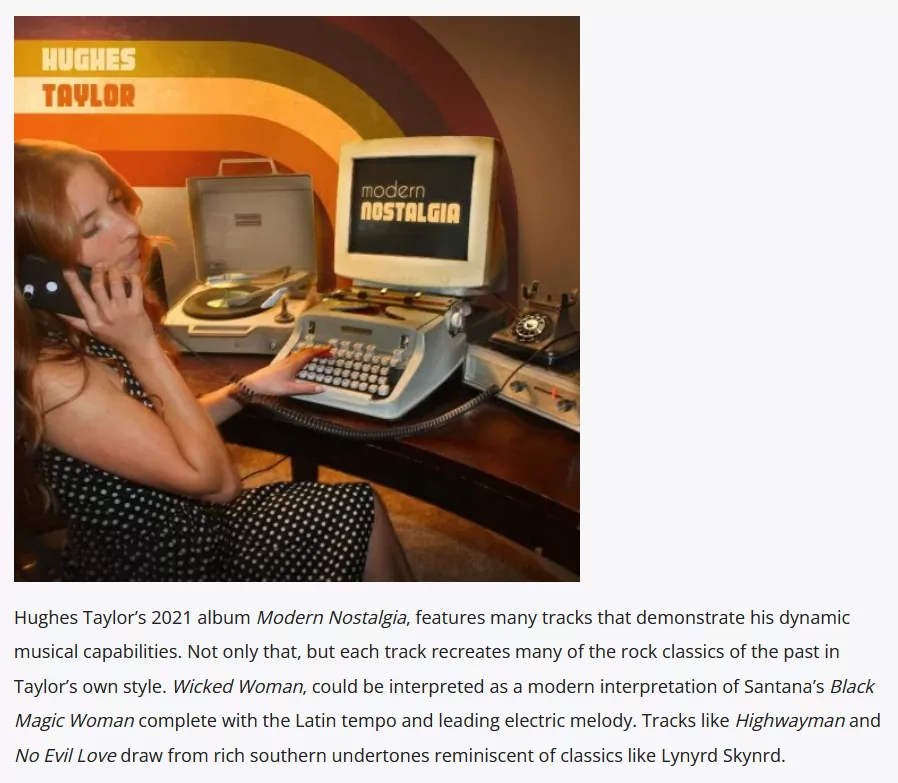 "Hughes Taylor's 2021 album Modern Nostalgia, features many tracks that demonstrate his dynamic musical capabilities. Not only that, but each track recreates many of the rock classics of the past in Taylor's own style. Wicked Woman, could be interpreted as a modern interpretation of Santana's Black Magic Woman complete with the Latin tempo and leading electric melody. Tracks like Highwayman and No Evil Love draw from rich southern undertones reminiscent of classics like Lynyrd Skynrd. 
Each track of this album feels like a journey back in time to those great blues rock giants we hold dear. You can almost imagine driving on a hot summer day down a country road, windows down, hair blowing in that warm wind and radio waves feeding a smooth soundtrack of Skynyrd, Boz Scaggs and a touch of Santana. This album truly captures that type of modern nostalgia."