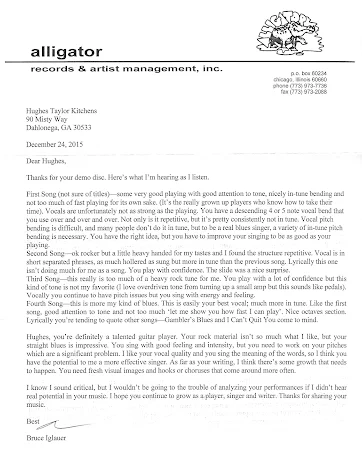 Before I released my first studio album Hear My Melody, I sent a four-song demo to legendary independent blues label Alligator Records. To my shock and awe, founder Bruce Iglauer himself responded! 
Mr. Iglauer opined that my "vocals needed work", but my "straight blues was impressive," referring to the track "Shook My World" that I almost didn't include on the album (a story for another time.) That should have been the moment I realized that "Shook" was going to be successful, but I still thought most people would not care to listen to an 8-minute slow blues jam. 
 I was wrong: one day I noticed a rather large deposit into my account: royalties from YouTube! Multiple channels with large followings had purchased "Shook My World" and created their own videos, one of which (parental advisory: age-restricted YouTube video) had over 100,000 views then; currently half a million! I was shocked (shook, even.)
Fast forward to January 2018: I'm halfway finished writing and recording my second studio album Restless. I was initialy prepared for this next album to lean more on the rock side of blues/rock. Still, being a blues artist at heart, plus the success of "Shook My World," I felt inclined to put at least one slower traditional blues song on the album. Good thing, too:  immediately after the  release of Restless, "Angry Blues Song" started getting attention, just like "Shook" had.
 After Restless, I set a goal: every other year I would release an album of original work that was all original songwriting and would represent who I am as a blues-rock artist. The other years, I would release something different: albums that scratched whatever musical itch I had. 
Thanks to the critical but encouraging feedback from Mr. Iglauer, I decided to record an album of "straight blues" this year. Eventually, I landed on the idea of revisiting the songs that had the most impact and influence on me.
"Pride and Joy" was among the first songs I learned to play. Stevie Ray Vaughan's approach to the guitar, the blues, and to music in general, is one of simultaneous ferocity and a gentleness that has had a lasting impact on me. After I finished recording the album, it was the only one that stuck out because of how similar to the original it was. Since the original is perfect, it seemed almost wrong to even pretend to replicate it. I thought very hard about not including it.
The next song chosen was "Five Long Years." The first time I heard this song was on Eric Clapton's From the Cradle. At the time I was already a fan of Clapton and Cream, just starting to understand the blues. I liked Stevie Ray Vaughan, but only knew the hits. A family friend lent me From the Cradle, and it was life-altering: when I got to the 5th track and heard that beautiful buttery tone from the guitar play straight into an all-attack solo, I got chills. This is The Blues!
It now seems ridiculous, embarrassing even, that I would think that this one song defines The Blues. To my younger self, it was the first time I really heard this style of blues with this type of guitar playing. Through this song and album I was introduced to Buddy Guy and Freddie King. Hearing Buddy Guy's version had me thin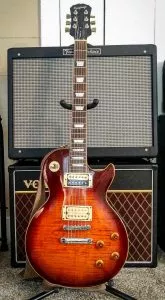 king, "so this is how you're supposed to sing a blues song." While I was venturing down different avenues, seeking out artists and their influences, it was this song on this album that really began that journey for me. 
When it came time to record, I tried a number of different approaches with the guitar, but the only way that felt right was all-out attack. So I kept it short and sweet, playing as aggressively as I could. It only seems fitting that I recorded it with my first guitar, Lessy
"I'm Tore Down" was next. I heard it for the first time on Clapton's From the Cradle, but it was Freddie King's version that really made me love the song. It was an easy choice; the band was already comfortable with it since we had appropriately nicknamed it "The Soundcheck Song." You can hear the Stevie Ray Vaughan influence, as I drew a lot of inspiration from him for our arrangement of this classic.
 "Red House" by Hendrix bridged the gap between blues and psychedelic rock for me. The way Hendrix manipulated the guitar and made the sounds he did, all while playing a traditional 1-4-5, 12 bar blues. It was the first song I remember making me think, "Oh wow, I didn't know you could do that with the blues." Especially with some of his live renditions of the tune. I feel as though this is one of my best studio performances. 
The final two song picks deviated from the blues, crossing over into the genre of rock. 
"Crossroads" was always a no-brainer for this album: I have always been a fan of Cream, and we have been playing this song together as a band for years. The slower, funky breakdown in the middle of it was conceived at a blues jam at Nowhere Bar in Athens, GA, where we were goaded by the proprietor to play the song in a slow, soulful, funky jam.

After that, we started incorporating that style of the song into our sets, starting in the original Cream style then transitioning into that slower version for a few verses and some soloing. It is an excellent showcase of the band's abilities.
Finally, we have "Voodoo Joe," our Hendrix medley of "Hey Joe" and "Voodoo Chile (Slight Return.)"  It was a last minute inclusion, replacing Albert King's "Born Under a Bad Sign." Although it is our almost-no-exceptions live set closer, I felt it was too much on the rock side for the album. The working title for the album was still Straight Blues and we had already broken that mold with our version of "Crossroads."

It wasn't until we struggled recording "Born Under a Bad Sign" to our satisfaction that I decided to instead record Voodoo Joe, a song with higher energy and one on which we were all well versed: during our second recording session with drummer Celeena Corbin, we laid down the drum track in three takes!
The recording process, for the most part, was a breeze. The main challenge was scheduling: Bassist Nate Lee's and Celeena's schedules ruled out meeting simultaneously.  We ended up recording each instrument separately during individual sessions. That was hardly an inconvenience, as we were pretty much able to record each of the parts within three takes for almost every song. Most of the songs Nate was able to knock out the bass parts in only one take. The guitar definitely took longer to track, because I was adamant about landing most of them with only one take, meaning if I messed up bad enough, I would want to redo the entire song. Naturally, I wasn't able to do this on some, especially Voodoo Joe. But for the most part, what you hear on the album is as close to one take as I could make it. 
Vocals turned out to be a challenge (hat tip to Mr. Iglauer.)  Some songs I was able to nail right away, such as "Red House." For most, I was spending days trying to hone in on the best way to sing them. "Pride and Joy" was especially difficult because we recorded the song in standard tuning, while we usually performed it live a half step down. By the time I was ready to lay down the vocal track, it was way too late to re-record in the lower key, so I did my best to push through. 

Ultimately, and surprisingly, it was cover song licensing that caused more trouble and delay than anything else! Licensing requirements were familiar to me, but I found out the hard way that licensing medleys is not as easy. It was starting to look like we would not be able to keep "Voodoo Joe" on the album, and although that was definitely not ideal, we still had enough material to release an EP. So I submitted the album sans "Joe" through the same release process as Restless. A couple weeks passed, and was notified that "Red House" licensing was denied with no reason given!
I eventually found a distributor that specialized in distributing covers and medleys. Now all there was left to do was wait. More weeks passed; then I found out that "Red House" and "Voodoo Joe" had to have their licenses manually processed by the distributor — whatever that means (fax machines!?). Since I had already waited this long and was pretty certain there were no other options, we went ahead with the manual submission. Another couple of weeks passed and the album was finally ready to go live! 
By now it was the end of June and the album was scheduled to go live on July 27th, a date I had arbitrarily set during the submission phase. Now that everything seemed ready to go, I wanted to change the release date from July 27 to "NOW." To my chagrin, that unintentionally restarted the entire release and licensing process! It took another month before the licenses were reobtained and the album was submitted to digital stores. It finally went live early August; you can stream or purchase the album at just about every digital music store on the planet.

Sometimes good blues happens slowly, not fast.