One of the awesome perks of signing up for the Hughes Blues Crew (besides getting all of my music before it's even released) is the opportunity to commission songs you'd like for me to record!
The first song I was commissioned to do was Uriah Heep's "The Wizard." Here is a quick summary of the write up I did for the Blues Crew:
In 2018, I had the unbelievable opportunity and true pleasure of meeting one of the original band members and main songwriter [for Uriah Heep], Ken Hensley. I watched him perform "The Wizard" and several more of his classic songs and inquired about his music and career. So my connection to the song was already strong, though I never saw myself tackling such a vocal-heavy song before.
Before I could record the song, I had to learn how to play and sing it. Playing it was the easy part. But as soon as I tried to sing along, I quickly discovered how daunting the task that lay ahead truly was. I ended up having to transpose the song 6 half steps, from the original key of C to F#.
Besides the vocals, the drums were the most challenging and time consuming. Creating drum tracks is difficult for me, since it doesn't come naturally to me where each hit is supposed to go. I listened intently to the original song, matching each hit of the drums. Once I was satisfied with my drum track, I added a simple organ part and moved onto the bass. I was able to quickly record the bass and then the electric guitar in just a few takes. My backing track was almost complete. All that was left were the vocals.
As I mentioned earlier, this was not an easy song to sing. The main vocal part took me a couple of days to finally get right. I eventually had to turn to my amazing and talented wife, Evie, for help. We spent a few hours working together to record her backing vocals. She not only sang multiple parts, but allowed me to film it, too! I was thrilled.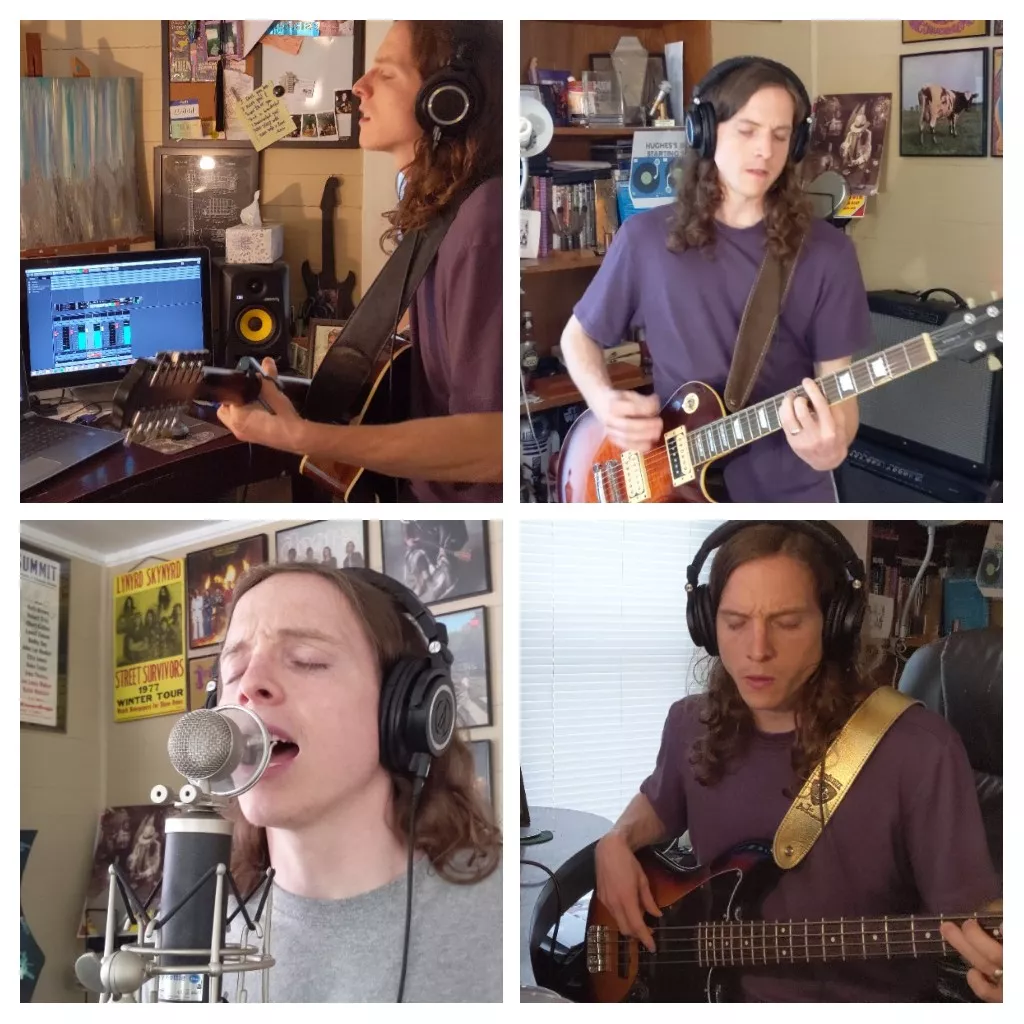 The mixing process was fairly painless. Some minor tweaking and the basic mix was sitting just right. The vocals, however, took me a while longer to fit into the music, mainly due to my overly self-conscious ears. All in all, it took me a few days to finally get a mix I was satisfied with.
Once the song was finished, I had to piece together the video. Let me tell you, video editing is certainly something I won't have a career in. But I did have a lot fun putting it together. I learned a few techniques along the way, and I feel the finished product is one of my better videos.
Evie, the amazing artist that she is, had a piece of art that just happened to work perfectly as the cover art for the track!
In the end, I made something I'm quite proud of, and I hope you enjoy listening to the song, watching the video, and reading about the experience! 
Join the Hughes Blues Crew now to get first access to all of my music, including commissions like this one!
UPDATE- November 2020: Ken Hensley's untimely passing has left us incredibly saddened. I am truly grateful for our meeting and to have know such an amazing musician and wonderful human being.